Deep Learning: Deep learning on weather relevant images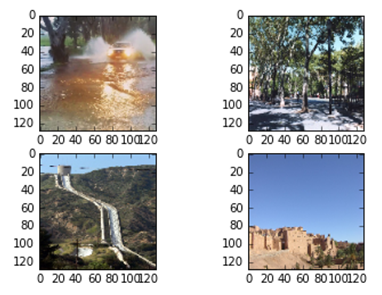 | | |
| --- | --- |
| Leaders: | Feng |
| Year: | 2017 |
| Is Finished: | yes |
Social media is nowadays an important data source to obtain real time information about the society. As we are now focusing on flooding events, an intelligent interpretation of the user sent photos is helpful for us to find out the occurrence of flooding events and their inundation areas.
Generally, the task in this master thesis is to classify the images crawled from social media platforms into 4 categories, sunny, cloudy/raining, water surface and vegetation. A deep learning approach such as Convolutional Neural Network (CNN) should be applied to achieve a satisfying classification results.

Tasks and time schedule
Literature research.
Complement of the datasets for four categories image classification.
Implementation and application of image classification methods.
Evaluation and comparison of the classification results.
Documentation.
Tools
Google open source project Tensorflow.
An image datasets with 3500 flood relevant images, as well as 5000 cloudy and 5000 sunny images will be provided by the ikg.
A first implementation in Python to classify the images into two classes (flooding and raining) using Tensorflow is available.
Requirements
Programming skills in Python.
Basic understanding of neural network.
Knowledge in image processing and experience with OpenCV
Contact: Yu Feng