Address
Leibniz Universität Hannover
Institut für Kartographie und Geoinformatik
Appelstraße 9a
30167 Hannover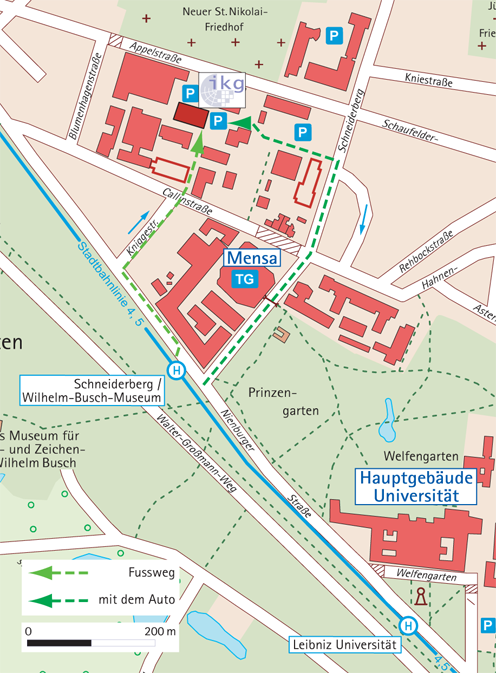 If you have any questions, please contact the secretariat
Email: sekretariat@ikg.uni-hannover.de
Tel.: 0511 762 3589
How to find us
Public Transportation
From the main station by underground or by foot to Kröpcke (approx. 3 minutes walk on Bahnhofstraße towards the city centre). Take subway line 4 (direction Garbsen) or line 5 (direction Stöcken) to the station Schneiderberg/Wilhelm-Busch-Museum (4 stops each). From the station it is about a 5 minute walk via Kniggestraße to the Appelstraße building (see map).
Timetables of the Großraum-Verkehr Hannover (GVH)
Car
Drive from Haltenhoffstraße or Nienburger Straße into the street "Schneiderberg" (see map). Parking is available at the corner of Schneiderberg and Appelstraße, or directly in front of the building (Appelstraße 9a).
The ikg is located on the 6th floor of the building.