Unveiling the Wireless Jungle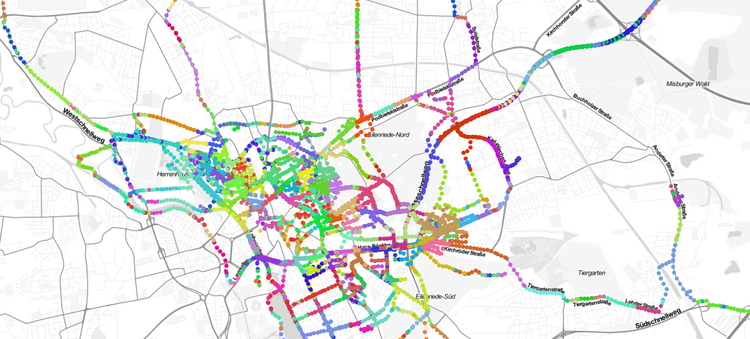 | | |
| --- | --- |
| Led by: | Schimansky, Golze |
| Year: | 2023 |
Introduction and goal
With the increasing amount of wearables, electric cars and wide spread of WiFi home routers, the density and variety of wireless signals is increasing drastically. Different types of connections such as WiFi, Bluetooth, Bluetooth Low Energy and LTE is found in every European city. Even if they are not directly visible, it is possible to capture the emitted signals, e.g. via smartphone.
Depending on the topic, there could be various analysis approaches with different goals for working with this type of data. However, the first step is always to collect additional data in order to become familiar with the process of collecting and exploring the data itself.
Possible topics, e.g.
Triangulation of measurements to generate a more precise map of device occurrences

Measurement classification into static vs. dynamic devices

E-Scooter hotspot detection

Application of different localization approaches (e.g. maximum consensus)

Exploration and integration of different data sources

or bring your own ideas
Resources
Data set containing WiFi, Bluetooth (BT), Bluetooth Low Energy (BLE), LTE and GSM device information with coarse locations

OpenStreetMap (OSM)
Requirements
Programming skills (preferably Python)

Being able to access databases and define SQL statements

Interest and willingness to collect and work with spatio-temporal data

Ability to work independently and strong personal initiative
Notes
This thesis topic can be done in English or German language.
Contact person(s)
M. Sc. Tim Schimansky (E-Mail tim.schimansky@ikg.uni-hannover.de, Tel. 762-2791)
M. Sc. Jens Golze (E-Mail jens.golze@ikg.uni-hannover.de, Tel. 762-19438)
Institute of Cartography und Geoinformatics, Appelstraße 9 a, 30167 Hannover, Room 611