The CHANGE program system generalizes buildings. Object types are separated and the objects are processed in a vector-oriented way with the generalization software. The degree of generalization is controlled by the input and output scale parameters as well as minimum graphic sizes. The default minimum graphic sizes correspond to the sizes described in literature. The program is run in batch mode and is independent of GIS and graphical system platforms. Areas of application are topographic cartography and geographic information systems (GIS).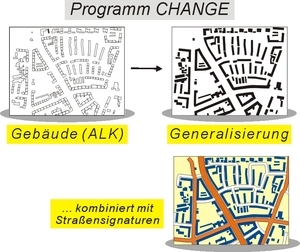 CHANGE for generalization of buildings
CHANGE enables the automatic generalization of building geometries (contours) in the scale range 1:1000 to 1:25000. CHANGE-Buildings includes data verification and correction, grouping of adjacent buildings and simplification of object geometries. Furthermore there is the possibility of pre-processing buildings such as right angle compensation, orientation to the streets, etc.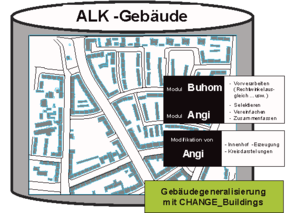 Combination of generalized buildings with signed DLM road axes
Assembly of the objects generalized with CHANGE for a digital cartographic model 1:25000.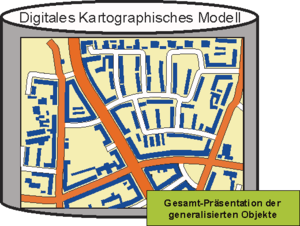 Dipl.-Ing. Frank Thiemann
Administrative/Technical Staff

Address
Appelstraße 9a
30167 Hannover
Dipl.-Ing. Frank Thiemann
Administrative/Technical Staff